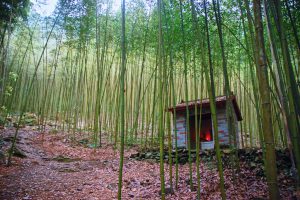 Guguan Hikes and Hot Springs
The hot spring village of Guguan has plenty to offer the outdoor enthusiast as well as a selection of places to soak in hot water.  There are a number of excellent hikes, known collectively as the 7 Heroes of Guguan, which vary greatly in difficulty, but are all superb.
Nearby Guguan is the Baxian Forest Recreation Area where the Baxian Mountain Hike begins, the hardest of the 7 Heroes.  This is also a great spot for shorter hikes and bird watching.
GRADING AND FITNESS
Difficulty – 1-4 (out of 5) Duration – 2 days and 1 night (more can be arranged)
Grading for Guguan really depends on the hikes and activities you decide to do.  Guguan can be as gentle or as difficult as you like.  Just let us know how much hiking you'd like to do.
PRICING
Private trips start at $49,800TWD for groups of 1 to 3 people. Each additional person is an additional $13,800TWD. Prices are based on double occupancy in a room (or three people in a room for odd numbered groups).
TRANSPORTATION
Private transportation is provided from anywhere in Taipei or the Taipei/Taoyuan Airport to the mountain.  Pickups in other locations can be arranged, sometimes for a small extra fee.  Vehicles are insured; Drivers are licensed; and traffic rules are obeyed.
FOOD
All the main meals are provided for the hike.  Clients only need to bring their own snacks.  If you have any special dietary requests, allergies, or needs, let us know and we'll be happy to accommodate you.
LEADERS AND SAFETY
All of our leaders are Wilderness First Responder certified and carry first aid kits.  They have all spent a lot of time hiking in Taiwan and are very experienced in the high mountains.  All of our leaders are native speakers of English, but also speak Mandarin and are very knowledgeable about the local mountains, flora/fauna, and culture.