We have over 35 years of experience traveling and hiking on "Ihla Formosa," the Beautiful Island.  We love promoting our adopted home and would love to show you all that we've learned as we continue to explore and experience it.
Contact us for information on custom hiking tours or join us on a prearranged group hiking tour.
The Partners
We're fours guys, three Brits and one American who have been living and traveling around Taiwan together for a long time.  We all came to Taiwan for completely different reasons, but fell in love with it for the same ones, the island's outstanding natural beauty and the friendliness of the locals who have so often gone completely out their way to help us.
Ross
Partner / Guide
Feeling bored of home and adventurous, Ross came to Taiwan in 2001 for a year to teach English. He left after 9 months with his tail between his legs and a feeling that he had not made the most of this opportunity. With only one trip out of Taipei (to Hualien) in this time, he felt he'd missed seeing so much of this remarkable little island.
Within a couple of years he was back, a better teacher, a better traveller, and a more adventurous person. Since then he's hiked the biggest mountains, traveled from north to south and east to west, camped, explored, lived and partied all over Taiwan, Still there are always more places to go, and things for him to discover, learn and experience. He's not tired of Taiwan yet and doubts he ever will be.
Taiwan Adventures
Neil
Partner / Guide
Neil came to Taiwan thinking that it would be a good place to base himself to explore other countries in Asia. Before long, he realized that there is so much to see and do in Taiwan, that he rarely needs to leave the island to find something new and interesting. Whether in the mountains, a temple, a small village or a big city, Neil can usually be found documenting Taiwan with his images.
Neil is a professional freelance photographer who specializes in editorial and corporate images. His portfolios can be found at: neilwade.com and his travel blog can be found at Taiwan Photography Blog.
Taiwan Adventures
Phil
Partner / Guide
Phil has been a resident of Taiwan since 2004 and during this time has traveled extensively throughout the island. During this time, he also spent three years studying Mandarin at the National Taiwan Normal University and achieved the highest level in the Mandarin Proficiency Test.
In recent years he has written about his travels around the island (in English and Mandarin) for a variety of magazines and websites. In 2010, he released his iPhone guide to Taipei - Taipei Uncovered. The positive feedback received from this inspired him to get together with the rest of the team and create guides to the whole island.
Taiwan Adventures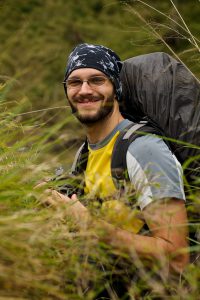 Stu
Partner / Guide
Stu first arrived in Taiwan with the intention of staying for 6 months and then moving on to the next Asian country. 6 years later and he's still here and still enjoys traveling and exploring the 'beautiful island'.
Since coming to Taiwan, Stu took up hiking and really can't think of a better way see Taiwan's real beauty than walking and climbing its hills and mountains. From hot, semi-tropical broad-leafed jungle to snow covered peaks, Taiwan really does have it all. Stu has written extensively about his treks on Hiking Taiwan.
Taiwan Adventures